How to introduce yourself in French ?
Would you like to learn how to introduce yourself? You have just begun to learn French vocabulary and Grammar lessons on www.learn-french-help.com. You may wish to visit France for a special event (... Roland Garros ... Film festivals of Cannes ...) or just for pleasure. Well, there's no need to be afraid of French people!!
We will show you basic introductions to use on your next trip to France.
by Albin VIDAL
---
To begin with we will teach you how to introduce yourself to somebody and some basic French conversation.
YOU
From 800 to 1800

Hello / good morning...................... Bonjour
After 1800

Hello / Good afternoon / good night................. Bonsoir
How are you / How are you doing?............... Comment allez –vous?
---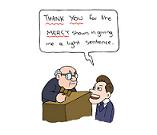 HIM OR HER
I'm ok, very well………………………….. Je vais bien

Thanks you, thanks ………………………. Merci

And what about you? ……………………. Et vous? (Comment allez vous)?
---
YOU
Very well too, Thanks ……………………. Trés bien aussi, Merci

My name is …../ I am ……. ………… Je m'appelle …….. / Mon nom est ……

And who are you? / What's your name? ...
Comment vous appelez vous ?
Quel est votre nom?

---
HIM OR HER
My name is ……. ……………… Je m'apelle……….

Nice to meet you / pleased to meet you …… Enchanté (masculine) Enchantée (feminine)
---
You have learnt how to introduce yourself ! learn French gestures and body language.
---
Free French Lessons | Contact | Home |

---
Introduce Yourself
Learn French Help
©2006. Transcity Properties Ltd, 32 Alverton, Great Linford, Milton Keynes, MK14 5EF, Bucks, United Kingdom.